Tree of Savior: It's Not a Sequel to Ragnarok Online
By mushroomzDate: Nov 25 2014 Views:
Let us think back to the first glance of Tree of Savior: fresh anime graphics, cute characters...and the most important element - made by Hakkyu Kim - who is called "the father of Ragnarok Online", these make us believe that Tree of Savior is the real RO2 indeed.
But at this G-Star 2014, their development director Kim Seyong told the 17173 journalist that even though the team of Tree of Savior is the same as RO, but the worldview of them are quite different. Tree of Savior will be a brand new MMO. What kind of MMO will Tree of Savior exactly be? What's the difference between TOS and RO? The 17173's interview with Tree of Savior development director may give you the answer.
Q: When Tree of Savior was first revealed, many gamers view it as a sequel to Ragnarok Online. How do you view these two games? And when will Tree of Savior be released?
A: Ragnarok Online is something which I developed 12 years ago (he worked on the game as well), and although the current development team for Tree of Savior is almost the same, the world view is different. Ragnarok Online is based on Korean comic series, with more Eastern elements, while Tree of Savior is based on Lithuanian mythology, hence more European elements.
Tree of Savior also uses the keyboard as its main control mechanic, rather than the mouse. There is no confirmation for a China release now, and the Korean phases will be determined by Nexon. I would say Tree of Savior is around 70% complete.
Q: Keyboard control is the key gameplay element here, with the mouse almost redundant. Will this design choice put gamers off, especially the Ragnarok Online players?
A: It is true that the keyboard is used mainly in Tree of Savior, while the mouse can only be used to clicked on things, and not even used for directing characters. Design wise, we felt that the mouse is not suitable for the game, but players can use gamepad as well.
We have tested the game with Ragnarok Online gamers, and after just around 10 minutes of trying, they got used to the keyboard system.
Q: Tree of Savior was said as having 80 classes. Can you tell us how the class system actually works?
A: The game will start off with 4 basic classes. Each class will have 19 choices at the 1st advancement, which is around 80 classes in total. Players will see unique classes which cannot be found in other games. In the future, we will be adding the 2nd and 3rd class advancements.
I can confirm that each class' skills will be totally different. For example, the Time Wizard (Chronomancer) class has the ability to stop time, which any other classes will not have. Classes are identified by their skills.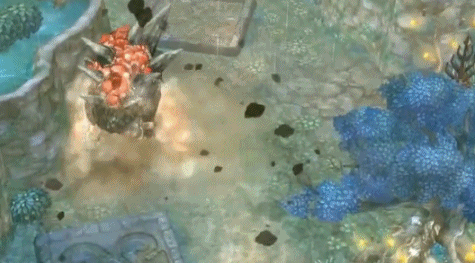 Q: The monsters in Tree of Savior seem unique, but unable to leave a lasting impression. Why is that so?
A: Yes, the monsters are designed have a more fantasy touch. We used trees, rocks, metals and more to construct these monsters. You can see some monsters constructed using wood, and they move like ants, giving a very natural touch.
Actually, the story plot and monsters are all tied to the "tree" element. Even in towns and dungeons, and some dungeons take place in trees, you can see the influence of trees, hence the title Tree of Savior. Perhaps viewers have yet to see more of the game, but when they do start playing, I am sure the overall concept will leave a lasting impression on them.
Q: Talking about dungeons, the bosses in Ragnarok Online are mainly in the open world areas. Will this be different in Tree of Savior?
A: Our dungeons are actually designed as a open world concept, different from the usually closed and limited dungeons. For example, a boss area can accommodate up to 200 players, which means 40 teams of 5 (if everyone has a party). You will be able to see them, and there will be some interaction features.
Q: With so many players, will there be an issue of players trying to "steal kill" a boss? Or even start an open world PK. What about PvP features such as the War of Emperium found in Ragnarok Online?
A: There is no PK or PvP option in the open world areas or dungeons. There will be 1 vs 1, 3 vs3 and 5 vs 5 modes in the PvP arena. We currently do not have other PvP features, but we are open to suggestions and to implement more in the future.
source:17173
​
Bookmark and share to your friends